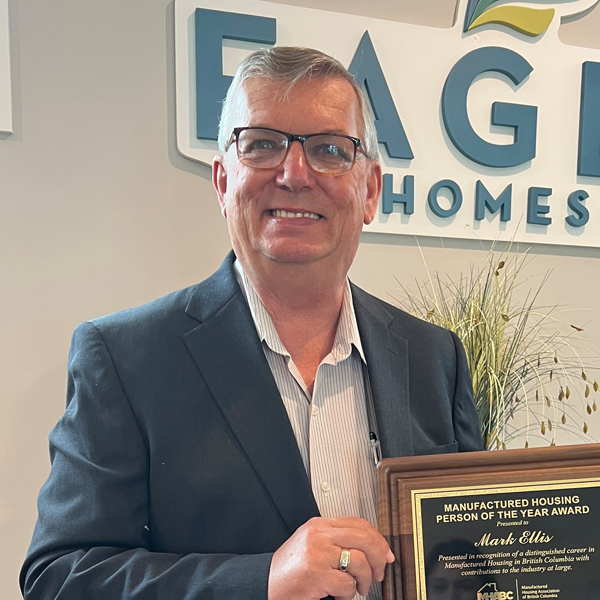 Mark Ellis
Founder
I married my love Joan in 1973, 49 wonderful years ago. We've raised three sons who have all been very active for over 15 years in various roles within Eagle Homes. My adult grandchildren are also proudly working alongside their mother and my daughter-in-law, Jodi. We are honored to be a family-owned and operated business.
In 1974 I began my role in the manufactured home industry and have never looked back. I've dedicated almost 50 years to serving my customers with quality manufactured and modular homes, as well as customer service that is second-to-none. After much success with our first branch in Salmon Arm, we decided to open an office in Cranbrook, then Kamloops and Castlegar to better serve everyone in BC.
Community involvement is something that I truly value and pride myself in being a part of. I currently serve MHABC as the Vice President and am very involved with the Shuswap Rotary Club on the Executive Board.
If you are interested in a new home, rest assured that our combined experience, honesty, dedication and devoted attention will help guide you through the process, from beginning to happily-ever-after.
James Ellis
Sales Manager | Home Consultant
Cranbrook, BC
As my father is the founder of Eagle Homes, it's safe to say I've literally been in this business since being in diapers, and been involved in this industry for my whole life. This in turn has helped me to gain vast experience in the manufactured home industry, and I consider myself an expert. The confidence our clients have in us is a testament to our experience, and it is satisfying to know this makes our customers feel comfortable making one of the largest purchases of their life. We are proud to be a family operated business that regularly gives back to many communities throughout B.C.
My favorite part of my position is the continued perseverance to be the best leader for my employees, to give our customers the absolute best home buying experience. When I'm not at work, you will find me paddleboarding with my family or running with my dogs. I'm also passionate about aviation and researching limitless human potential.
Thank you to all my family, staff, and clients for your support over the years.
Jessica Chester
Executive Sales Director
Salmon Arm, BC
I have had the pleasure of working with the Eagle Homes team since 2007, with the opportunity to work in various roles throughout the years. However, my current role as Executive Sales Director is definitely the most rewarding. I enjoy working alongside our sales team to help our clients design and build their dream homes. Sharing in the planning, excitement, and joy of having a new home with my clients is a gratifying experience! I would love to help you & your family design your next home.
When I am not in the office, I am enjoying the beautiful outdoors, spending time hiking, camping, etc. with my husband & dog, Cosmo, as well as travelling the world at any chance I can!
Krystal Hamilton
Assistant Manager
Cranbrook, BC
I am involved in many different aspects of our business, from greeting customers at the front door, to organizing home deliveries, to attending walk throughs, and managing warranty and service. I'm also proud to contribute suggestions and ideas to our team to make improvements and evolve the business and amazing website. I pride myself in offering the best possible customer experience and customer service I can provide.
When I'm not at work, you can find me paddleboarding on the lake with my beautiful family and my best furry-friend, Colorado, or working away in the garden.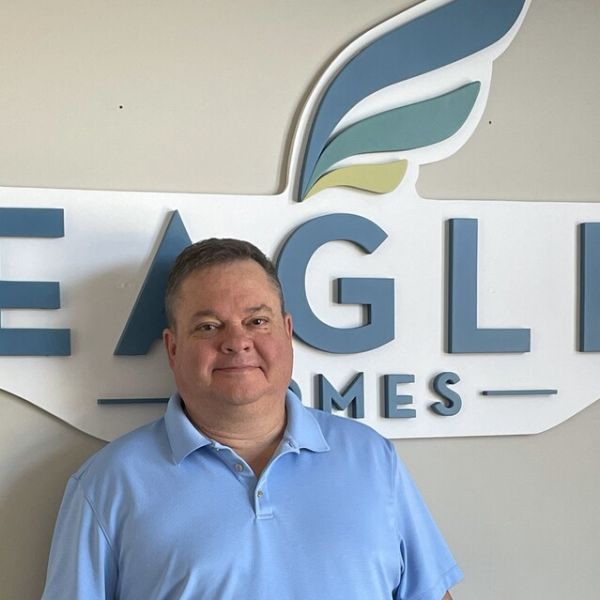 Robin Mclachlan
Home Consultant
Kamloops, BC
I have been working in the manufactured and modular home industry for over 30 years. I joined Eagle Homes' team because of their incredible reputation for customer service, as it's a priority to me that my clients see the value in myself and our company's abilities. I pride myself in being patient, transparent and clients advise that they appreciate my active and good listening skills. Numerous clients have provided me with excellent service reviews.
My beautiful wife and I love to travel, especially to the Philippines where we are delighted to own a home. When we are not working or traveling, we enjoy being outdoors, or preparing good food to enjoy with good friends.
Daniel Gaughan
Home Consultant
Castlegar, BC
I enjoy learning and growing through the great mentorship, life lessons, and encouragement for personal and professional growth that our Eagle Homes team offers, which has set me up to be the best Home Consultant I can possibly be. Everyone in our company truly wants to see you succeed in and outside of the office, which is my favorite part about being a part of this team!
When I'm not at work you can find me hanging out with my Family or at the dojo working Brazilian Jujitsu.
Patrick Philippot
Home Consultant
Cranbrook, BC
Over the past 15 years I've worked in various positions and environments, however I've most enjoyed the refined processes that Eagle Homes has in place to help our clients get into their new homes through in-depth consultation. I'm passionate about getting to know my clients and fully understanding their needs, wants and vision. At Eagle Homes, we work as a team to ensure a smooth and enjoyable experience for everyone.
The best part of my job is turning your dreams into reality by helping you choose the right floorplan for your living style and putting together a vision board with our curated décor samples. I love being part of your home buying process from start to finish.
David Carlesimo
Home Consultant
Salmon Arm, BC
I love being a part of the Eagle family! When it comes to the home buying process, I make it as seamless and smooth as possible! In my downtime, you can most likely find me outside, hiking and soaking up as much fresh air as possible.
I am looking forward to meeting you and helping you find a home that best suits your needs.
Hilary Loewen
Sales Assistant
Castlegar, BC
I have loved what I do at Eagle Homes every day! I work closely with the entire team daily, completing warranty administration, daily operations, designing homes, and so much more. I love working with so many great clients in our area to build their dream home. It's such an honor to watch the creative process, then seeing the home come to life for each client.
When I'm not in the office, you would find me at the gym or outdoors with lots of friends and family. I am a creatively driven person with plenty of boards on Pinterest and am always Googling the newest trends in interior design. I hope to see you drop by our Castlegar office to chat with me someday, and see how we can create a beautiful dream home together.
Jamie Bittner
Office Manager
Kamloops, BC
It has been a pleasure being a part of the Eagle Homes Family! I have held various roles during my years with Eagle Homes. I love my job - helping our clients custom design their forever Eagle Home, while building lifelong relationships and friendship with my clients along the way. The experience is always new and exciting with every new client.
I am originally from the Caribou, and have been in been in the Kamloops area for the last 9 years.
I have 2 sons, ages 12 and 15 and love spending time with family and friends, camping, kayaking, and fishing, and cheering my boys on from the sidelines.
Emily Potts
Reception
Salmon Arm, BC
Since joining the Eagle Homes team, I have supported many different roles from assisting the sales team, to handling warranty inquiries, to arranging home deliveries. My favourite part of working with Eagle Homes is all the wonderful people I get to meet and interact with on a daily basis, and I look forward to greeting you at your next visit to our Salmon Arm location!
Tanya Ney
Reception
Kamloops, BC
I have been so fortunate to be a part of the Eagle Homes team, and learn more and more every day. I work at the front desk and warranty and completely enjoy being a part of such an amazing and professional company.
Outside working hours, my husband and I enjoy getting out and taking our dogs on walks, or listen to musicians that perform outside on those warm summer months. Most importantly, we enjoy spending time with our grandsons and having family around us, which makes my heart full.
Josh Chacko
Process Manager
Salmon Arm, BC
I have enjoyed soaking up all the information that I can during my time with Eagle Homes. My role is multifaceted and I am involved in many aspects of our business, from processing orders to marketing and filling-in with administrative duties as needed. I am proud to have earned a Bachelor of Business Administration with majors in Human Resources and Marketing from Thompson Rivers University.
In my spare time, I enjoy spending time with my family, going on hikes, working out at the gym, cooking some good food on weekends, and learning new skills.
Rex Landis CD
Home Consultant
Salmon Arm, BC
My wife, Sharon, and I moved back to the Interior after many years of travelling for work. We now live in Armstrong, BC. I am BC born and raised, and part of my heritage is Metis. Throughout my life's adventure, I have been a chef, truck driver, logger, marine engineer, and worked in the oil and gas exploration industry, predominately in the camp setting with modular units, in charge of maintenance and set up. From my military career, I am a decorated Armed Forces Veteran. For many, many years I have been active in the collector car culture in BC. I have been a legion member, now starting my 44th year. I look forward to meeting and working with you as a Home Consultant for Eagle Homes.
Pete Belbin
Home Consultant
Kamloops, BC
I enjoy working with those who share the same philosophy of offering a great customer experience, which I believe is crucial. I have been in sales, in one field or another, for over 25 years, mainly in the heavy truck industry. My focus is on customer service and making my customers feel comfortable and worry-free during their experience of designing their dream home with us. Not only is Eagle Homes a very highly regarded company, but our premium homes are built right here in British Columbia.
My wife and I moved here from the Northern Interior 8 years ago and Kamloops instantly became our home. Many of our family and friends live here; we love the community and all that it has to offer.
Robert Morrell
Sales Manager
Salmon Arm, BC
January of 1990 is when I entered a new employment venture many years ago. I have enjoyed working in the Factory Built Housing Industry for 32 years. My passion is housing. I have worked for Factories and Dealerships throughout my career. Recently had the opportunity to returned to the Eagle Homes Team. The professionalism, family atmosphere, quality of product and unmatched set up crews are all the reasons Eagle Homes is the industry leader in affordable housing. I love the Okanagan / Shuswap area and have been blessed to call this my home for 22 years, so when not at work, you will not find me to far from a lake.
VISION STATEMENT
To provide the best customer experience through innovation and consistent adaptation; to develop quality, environmentally-friendly homes while positively impacting our communities through supporting and giving back locally, one home at a time.
Locations
Salmon Arm, BC
1190 51 Street NE
Salmon Arm, BC
250-833-4728
Kamloops, BC
7510 Dallas Drive
Kamloops, BC
250-573-2278
Cranbrook, BC
2232 Cranbrook Street N.
Cranbrook, BC
250-489-1230
Castlegar, BC
4430 Minto Road,
Castlegar, BC
250-365-2121